Strategies & Ideas
Since you are an educator, parents, children and our community at large look to you to help instruct, inspire, and empower our future work force. With STEMisphere, you are able to view a collection of resources for STEM education to help you reach this important goal. Visit STEMisphere to help enhance your science, technology, engineering and mathematics instruction.
Base science, technology, engineering and math education in inquiry, – foster curiosity!
Integrate curriculum – the world isn't separated in silos, neither should instruction and learning!
Learn together – create opportunities for project based group learning activities, pertinent to everyday experiences!
Grow awareness of careers – the jobs of today and tomorrow require strong STEM knowledge!
Carnegie STEM Excellence Pathway
The Carnegie STEM Excellence Pathway is an online tool that assesses current STEM programming and determine what successful improvement of STEM education will look like for your institution.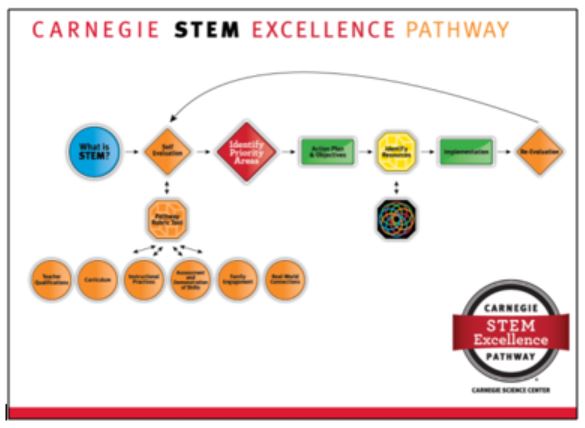 Pathway Workshops: Our workshops can support your engagement in the Carnegie STEM Excellence Pathway. Carnegie Science Center offers half or full day facilitated workshops which can be held onsite at a school, remotely, or at Carnegie Science Center. Learn more! 
Pathway Provider Training Institute: Our 'train the trainer' series allows you to lead Pathway workshops to schools and organizations in your region. Pathway Providers will receive a full set of training materials, in-depth knowledge of the online Pathway tools, models for workshops and implementation strategies, regular online webinars to support your work, and online access to our Pathway Provider Portal. Learn more!
Educator Resources
Professional Development
The Pittsburgh Regional STE(A)M Ecosystem – Expanding opportunities and enhancing quality in STEM and STEAM Learning. The STE(A)M Ecosystem is a regional collaborative comprised of individuals and organizations who seek to equitably equip and empower learners to use S cience, T echnology, E ngineering, A rts, and M ath to better themselves and their world. We prioritize interdisciplinary learning and high-quality programming that is relevant to students' lives and future careers. View STE(A)M Ecosystem Recommended Resources!
Carnegie Science Center Teaching Excellence Academy – Carnegie Science Center's Teaching Excellence Academy offers educators opportunities to sharpen their STEM pedagogy skills. Programs are offered for educators in all grade levels, with specific workshops in STEM, early learner education, and the engineering design process.
The PNC Grow Up Great Teacher's Toolkit – Early childhood educators can use videos and instructional techniques to deepen children's understanding of arts and science concepts, and develop their vocabulary and oral language. Teacher and family resources are available to help provide the best possible learning experiences for young children. 
ASSET STEM Education – ASSET STEM Education (Achieving Student Success through Excellence in Teaching) is a national Science, Technology, Engineering and Math (STEM) education improvement nonprofit. It fosters STEM fluency and college/career readiness by providing educators of students pre-K through career with highly effective professional development, hands-on educational materials and consulting services. More than 7,000 teachers and 225,000 students across the nation are impacted by ASSET's programs.
Math & Science Collaborative – The Math & Science Collaborative is comprised of representatives of school districts, non-profit organizations, institutions of higher education, and other stakeholders committed to strengthening the teaching and learning of mathematics and science.
Pittsburgh Supercomputing Center – Many of the PSC Programs for Educators provide content material on-line as a resource for K-12 teachers. Many also offer workshops (with Act 48 hours) on how to effectively use the materials.
Carnegie Science Awards
Know a remarkable educator? Nominate them for a Carnegie Science Award, the region's most prestigious award for excellence in STEM education. Each year, Carnegie Science Awards recognize outstanding leaders in STEM education whose commitment to innovative and engaging teaching methods will help to inspire the next generation of scientists. Their stories showcase our region's excellence and inspire the science and technology leaders of tomorrow. Learn More. 2020 Carnegie Science Award Winners
HundrED
The purpose of education is to help every child flourish, no matter what happens in life. In a fast-changing world, education must adapt to keep up. The world is full of inspiring innovations, but they can struggle to spread beyond their immediate environments. That's why HundrED discovers, researches and shares impactful and scalable K12 innovations with the world, like STEMisphere and The Carnegie STEM Excellence Pathway, for free.